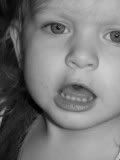 Today, IKEA. Tomorrow, the

WORLD!!
Yesterday we were one of THOSE people. The people that you glare at in the store, the ones with the screaming toddler. Boo was unfuckingbelievable yesterday. We went to IKEA and she started whining the minute we walked in the door and it just escalated from there. She cried, she threw things, she screamed, she hit. Ugh. She screamed the entire. way. home. It's an hour and fifteen minute drive.
She's taken to growl-screaming at me and she does it until she makes herself cough and gag. The other day, she screamed and screamed and screamed at me, until I finally snapped and screamed back in her face. I'm not very proud of it, but I was about to lose my shit.
I can't believe I would have forgotten if my other two were like this. I really don't think they were. Boo is unreal, though. She's going to do what she wants to do and if she doesn't get to do it, she's going to let the world and its brother know about it. If the Bug is like this when she gets to that age, I'm going to lose my mind. I can't fucking stand this. I don't want to have to spend the next three years stuck in my house because I have children who can't be inflicted upon the general public.
Time outs don't work - she thinks they're funny. I put her in her crib, but she just screams in there, too. And I'm talking half an hour of screaming, until I can't stand it anymore. The neighbours are probably going to call DSS on me any day now. I'm about at my wits end with her.
Do you think I'd get a good price if I sold her for science experiments?