The Bug hadn't pooped in 10 days and although she was peeing like a champ, she was starting to seem a bit uncomfortable; not surprising at all, really. I tried calling the doctor, but they take Friday afternoons off (lucky people). In desperation, I did what most parents do: I Googled.
After checking several reputable websites, I came to the conclusion that the best thing to do would be to give her some diluted prune juice (cue collective cries of "Ewwwwww, pruuuuuune juice!" ). I mixed one ounce of juice with two ounces of water and attempted to get her to drink it.
At first, she was enthusiastic, sucking on the bottle like it was, well, my boob. It must have taken a minute for the juice to register with her taste buds because all of a sudden, she screwed up her face and pushed the bottle right out of her mouth and glared at me. There's nothing like being glared at by a four month-old.
So I broke out the medicine dropper and spent the next couple of hours trying to coax her to drink the juice. She'd lap it up and then let half of it dribble out of her mouth. She wound up sticky, pissed off and very, very tired. I finally gave up. She got maybe an ounce into her, if that. I figured if she hadn't pooped by the morning, I'd call the doctor.
Now this is not usually a child whose poops you fail to notice. They arrive with a fanfare of farts, a gaggle of grunts and a plethora of poops. She was, until recently, a champion pooper. She seems to have morphed, however, into a stealth pooper. She sat in her exersaucer, bouncing around, smiling and happy. I picked her up to feed her and hoo boy. Poopage. Much poopage. From her thighs to the back of her neck. Ick. Of course, I stuck my hands in it when I picked her up - this is what happens when you have a stealth pooper. You're unprepared. She had an unfair advantage in the poop battle.
It's hard to wrangle a poop-covered baby. You don't want to put them against you because, ew. My clothes are already smeared with sticky hands, they don't need to have poop accessories. So I held her straight out in front of me. Poop smeared all over her head as I took the onesie off, so it was straight into the shower with her. Do you know how hard it is to hold a baby under the shower when you are fully dressed? Do you know how hard it is to wash said baby, when you're fully dresssed and the baby is slippery?
You'll be glad to hear that I didn't drop the baby, nor did I get any poop on my clothing. The exersaucer may be out of comission, though.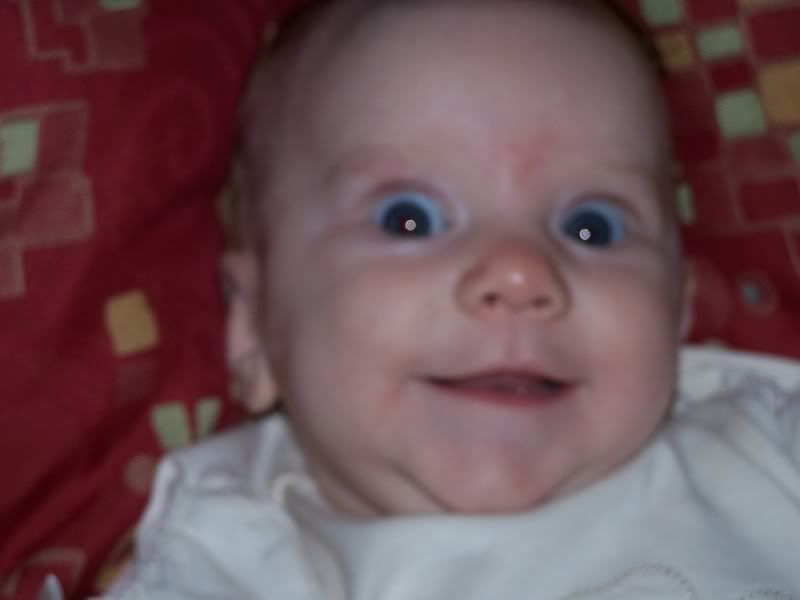 I feel 100% better now, mama.