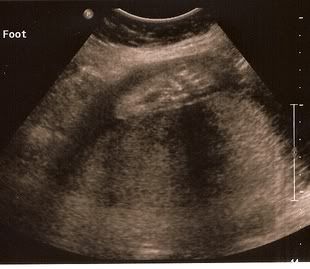 Hiiiieeeeeee-ya!
Well, it's still a girl. I'm measuring right on target now, which is good, since I was measuring way ahead a few weeks ago.
At the last ultrasound I had, they couldn't see the baby's heart. It was there, beating away, but she's so low in my pelvis (and as the tech put it, "You're a bit fluffy, dear." No shit, Sherlock.) that they couldn't see it. So I had to have a fetal echocardiogram today, which freaked me out a little bit. The technician is doing the ultrasound, clicking away, then says "Hmm", grabs my folder, asks "Do you have any history of heart defects in your family?" and leaves to go get a doctor. Meanwhile, I'm in the room for 15 minutes, alone, trying not to hyperventilate. Jesus, lady, way to give me heart failure. But everything's fine, no problems at all.
My friend T is coming out tonght, for the weekend. We both love to cook; he loves it so much that he's going to culinary school in Cambridge. I'm really looking forward to it. He found this kitchen supply shop in the funky college town I live near and wants to go. I don't know how I managed to miss this place, but I did. Not after tomorrow, though. There will be Henckels and Wustof-Tridents and lots of other fancy-schmancy knives to drool over, gadgets to fondle, appliances to covet. It's gonna be fan-freakin'-tastic. And then tomorrow night, we'll cook a feast together, like we always do. Mmmmm. I can't wait. And? He's as rabid a Red Sox fan as I am. I picked a good friend.