Since I now have to get up at what-the-fuck o'clock every weekday morning, it's made me a little cranky. And before you start laughing hysterically, I'm quite aware that this is my usual state of mind. I am, however, even
MORE
cranky than usual.
In honour of my born-again cranky-hood, I give to you: Rant In B Minor.
Who thought it would be a good idea to name a trucking company A. Duie Pyle? Seriously. It's emblazoned across the back sides of tractor trailers all across New England. And I am
NOT
the only one who thinks of a big, steaming pile of poo every time I see one of those trucks, because I've asked. This is one time when I can't be accused of channeling an eight year-old boy.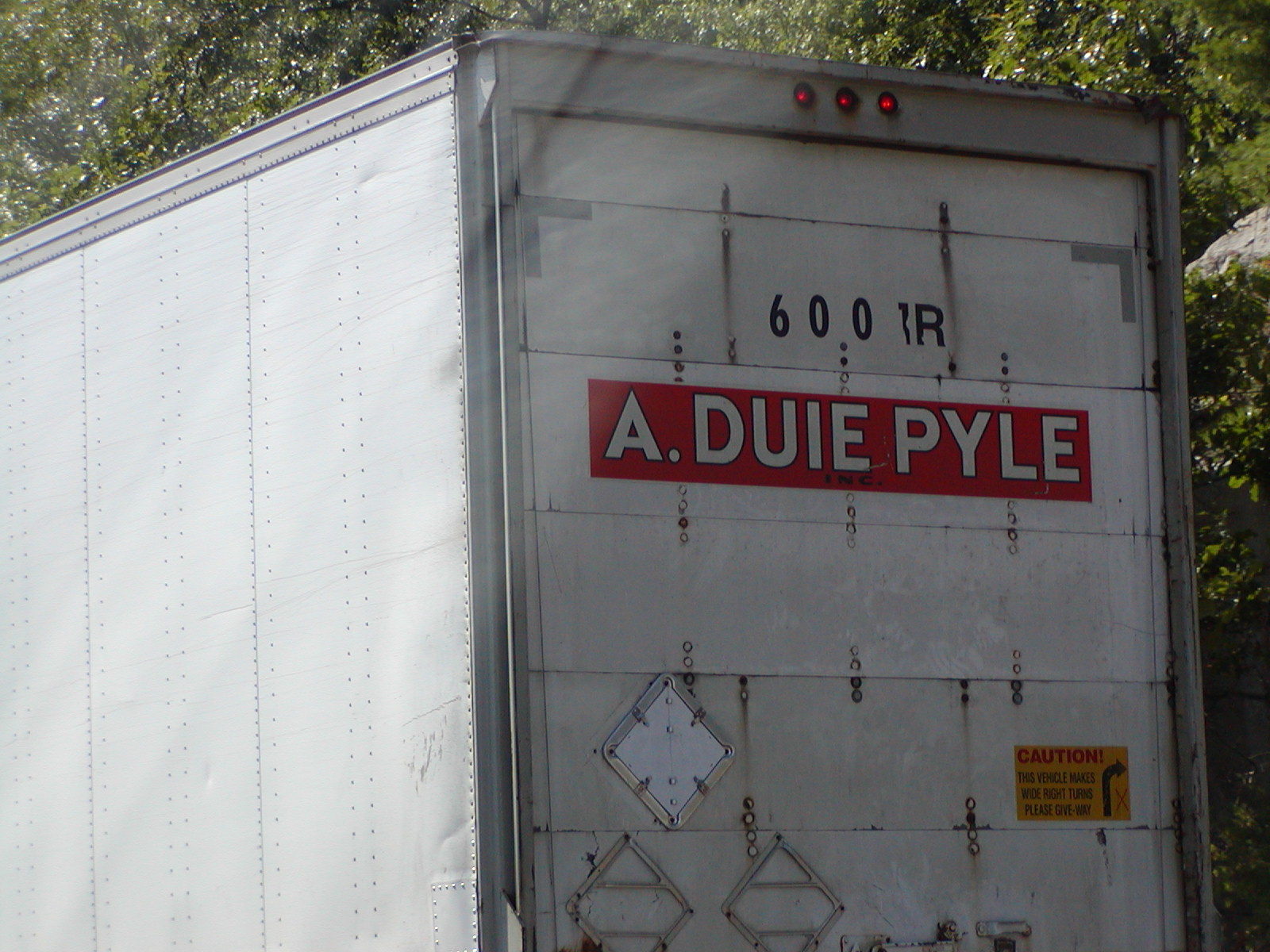 I am cat-sitting my mother's cat while she's off in Italy for a month – must be nice. Bi-atch. Black cat with an infintessimal white spot on his face. Named Punto. Why? Because instead of just calling him Spot and going for the more obvious humour, she has to name him Spot in Spanish, thus ensuring everyone and their little brother ask her about the cat's name. I am about to call him
DEAD
, though, because he's taken to dragging large sections of newspaper under my dresser every night and then kneading them. All. Night. Long. Crackle-rustle-crackle-rustle. Which makes the Dumbest Dog In The Universe come to investigate. Which makes the cat growl and spit and then knead harder. Which wakes me up at
LEAST
three times and when you have to get up at what-the-fuck o'clock, it makes you a bit crabby.
Also? Steam radiators? They suck. They bang and clang and hiss and wheeze like a gigantic, asthmatic sperm whale. They have a tendency to kick on at seriously-what-the-fuck o'clock, which is approximately 40 minutes before what-the-fuck o'clock, ensuring that I am awake 20 of those precious minutes, finally falling back to sleep only to be woken up by my alarm going off. Which is infuriating. And if you think I'm getting up at seriously-what-the-fuck o'clock, you've got another think coming.
After a 15-1/2 month struggle, we have been able to get The Boo to sleep in her crib without a peep or a fuss, which, let me tell you, was
ALMOST
enough to convince me that there may actually be some sort of higher power. Now, however, she has an ear infection in each ear. Again. Which means that she won't stay asleep in her crib for more than about 30 minutes. Which means she's been sleeping in our bed for the last two nights. Now, I love The Boo. She's cute and funny and all those other yummy baby things. She's also a friggin' windmill in her sleep. I am sick of having toes in my back, my boobs, my hair…it's getting old. Tonight, she's going back into the crib, because I am
NOT
having her get used to this all over again. I want my bed back.
I got to work this morning and there was a
TWIG
in my bra. I don't hang my laundry out on the line (not having a line to hang it from), so how it got there shall remain one of life's little mysteries. Probably explains why my boob was so itchy while I was driving to work.
I just want to be
DONE
unpacking. I'm sick of tripping over boxes. We have two washers and two dryers in the kitchen, too, which makes for tight quarters. Why, you ask? Because TCBIM had to have the garage turned into a den. Immediately, apparently. So, I have no garage any more, which means I have to place no store the spare washer and dryer. Anyone want to buy them? I'm sick of looking at them.
The final enrage o' the day: The fuckers over there on Yawkey Way have
TRADED
Bronson Arroyo for Wily (put the second L in there, for the love of Pete) Mo Pena. (and no, there's no tilda over the N. I checked.) Why? Why? I love Bronson. He's a great pitcher and was a great team player, willing to do anything to stay with the Red Sox. After giving them the hometown discount, I'd be willing to bet he's seven shades of pissed off. Welcome to my world, Bronson.