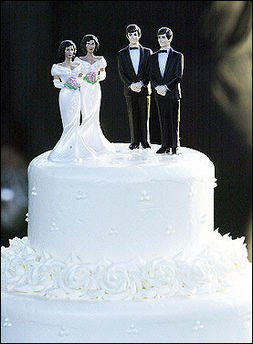 This
made me tear up as I was driving my daughter home from school today. Why? I'm not gay. I don't think I'm going to become gay, although it could happen. But I've never understood why a man who loves another man or a woman who loves another woman shouldn't be allowed to get married, to be allowed the same rights that a heterosexual couple is allowed. I've never understood why people are so threatened by gay marriage. What, exactly, does it threaten? Is it just that they don't like gay people and this is one of the only socially acceptable ways to let that dislike show? It baffles me.
Anyway. I'm thrilled that California has had the great good sense that Massachusetts did and hope that other states follow suit.
I read a
post
today on a blog called Whisky In My Sippy Cup. It made me want to stand up and cheer. She's a fantastic writer and she's got one hell of a post today. And she referenced Keith (My Boyfriend) Olbermann. So, go, read. She said it way better than I could ever hope to.