This is Oscar: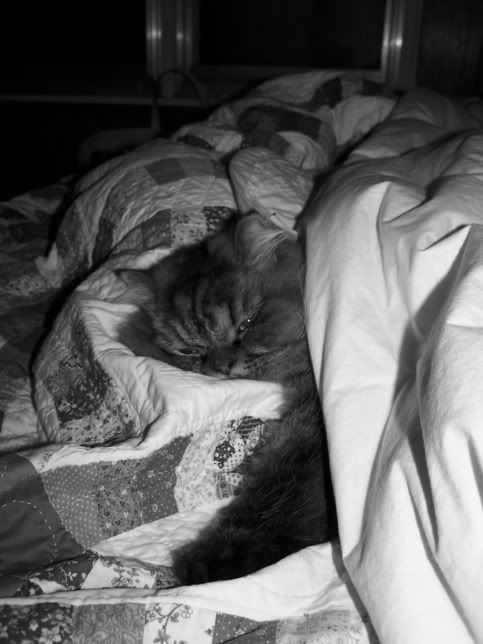 Pretty cat, no? He's a Persian that I got from a shelter and he bears a strong resemblance to Oscar The Grouch, thus, the name. He's snuggly and friendly and thinks he's a dog. He follows me around. He actually
likes
to be petted. He seeks out affection. He sleeps on his back and sometimes he drinks from the toilet. I love this cat. Right now, however, he is pissing me off. He has shit on the floor four times in the last three days. His litter box is clean. He has food and water. Sometimes he just shits on the floor.
So I thought I'd share this picture. Because if he's gonna piss me off, then I'm going to give it right back.
Doesn't he bear a strong resemblance to Nathan Lane in The Birdcage?
See the resemblance?
My cat, the drag queen.


Today I got a text message, from someone named Jay. Here's how it went:

Jay: Hey, how u doin?
Me: Who is this?
Jay: Jay, from Ultra 88.
Me: I think you have the wrong phone number (yes, I spelled out number. Because I'm a geek.)
Jay: Dana?
Me: No, Julia.
Jay: Ok did I meet you at Ultra 88.
Me: I don't even know what that is.
Jay: The nightclub at Mohegan sun.
Me: Nope, not me.
Jay: We danced all night long, it was great.
Me: Not with me - My lawyer advised me not to dance after the last "incident."
Jay: LOL So how old r u? (Fantastic. Txt spk)
Me: 40. And very married. With four children.
Jay: Whoa. OK. Well, enjoy your new phone.



These two things? The most excitement I've had all week.